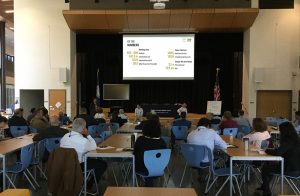 Frederick County Middle School (FCMS) recently hosted Why Space Matters for Learning, the mid-year conference of the Association for Learning Environments Virginia Chapter (VA4LE). At the event, 2RW's Bob Crowell and Peter Mackey teamed with Frederick County Public Schools' Tim Crisman to present Approaching Net Zero Building Systems, the story of this award-winning middle school's sustainable MEP and water/wastewater design. Bob and Peter served as principal-in-charge and project manager for the school's MEP/FP system design which included a hybrid geothermal system and incorporated the sustainability features into the curriculum.
FCMS has received accolades for its progressive design and sustainability achievements. It is Net Zero Water and Net Zero Energy-ready and consumed just 26.9 kBtu/sf of energy in its first year — 39% of comparable schools' usage and less than the design goal of 30 kBtu. Data indicates that the energy consumption will continue to decline as building operations are fine tuned.
2RW would like to thank VA4LE and Frederick County Public Schools for the opportunity to present this exciting story and congratulates Stantec for its award-winning design and leadership on this extraordinary project.