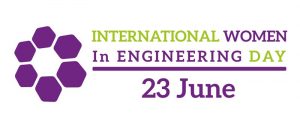 International Women in Engineering Day (INWED) is an opportunity to highlight the remarkable achievements of women engineers in the Mechanical, Electrical, and Plumbing (MEP) sector. This is a day where we raise the profile of women in the engineering field, that, traditionally, has been male-oriented. Yet it is changing thanks to the determined women who have been breaking barriers and offering a fresh perspective to the world of MEP engineering.
This year's theme, "make safety seen," resonates throughout the industry. In the world of MEP engineering, women bring an extraordinary depth of knowledge, sensitivity, and problem-solving skills. This includes a laser-focused commitment to safety. They drive the industry to deliver more efficient – and safer – designs that transform the way we live, work, and interact with the built environment.
At 2RW, we are committed to fostering a workplace culture that encourages and supports women in pursuing their engineering ambitions. Join us as we continue to prioritize diversity and inclusivity, fostering a workplace that encourages women to pursue their engineering ambitions. On this International Women in Engineering Day, we celebrate and appreciate the remarkable women who have chosen to engineer a better world.