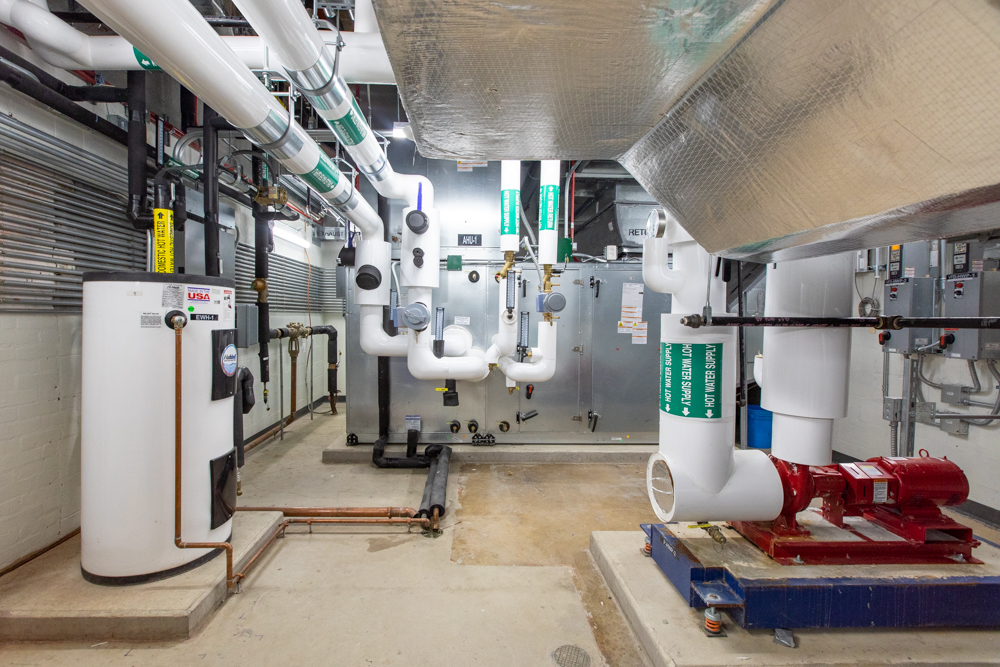 What makes you feel comfortable when you're in a classroom? What goes behind the scenes when you command 'Alexa' to dim the lights? What happens when you drain the tub after a relaxing bath? Answers to these questions lie in mechanical, electrical, and plumbing (MEP) engineering design—each division a specialized and complex trade.
Engineers in these disciplines closely collaborate to design and manage systems that create safe, healthy, comfortable, resilient, affordable, and energy-efficient indoor environments. If buildings were compared to the human body, the MEP systems would be equivalent to all the systems that sustain life.
Mechanical system design, often referred to as Heating, Ventilation, and Air Conditioning (HVAC) system design, includes the layout of various HVAC system components such as boilers, chillers, pumps, air handling units (sometimes as big as a living room), ducts, vents, and piping to provide occupants with a healthy and 'cozy' environment.  An HVAC design engineer plans these components based on a building's unique geometry, so these components work together efficiently with the architectural intent to provide a comfortable indoor environment.
Electrical system design includes the layout of lighting, power, communications, and life safety systems within a building. Transformers,
switches, electrical panels, wiring/cables, power outlets, lighting fixtures, audio/video devices, alarm devices, etc., are some of the main components of electrical systems. While power/distribution companies produce and transmit electricity to a building, it is the system that electrical engineers design that ensures lights, TVs, air conditioning units, or huge factory equipment are powered 'on' (or off) with the touch of a button, flip of a switch, or a voice command to 'Alexa.' Electrical engineers also design life safety systems that guide building occupants to a safe location during an emergency like a fire or a natural disaster.
Plumbing system design includes the layout of piping distribution in a building that provides safe and temperate drinking water at various locations, connects equipment, and safely conveys wastewater out of sight (and probably your mind). On complex buildings such as biochemical labs, factories, and commercial kitchens, plumbing engineers are also responsible for designing and managing specialized systems which safely convey toxic substances via piping and conduits without harming the building, occupants, or the environment.
In addition to making buildings livable, MEP engineering also plays a crucial role in reducing a building's environmental impact. MEP engineers and other stakeholders are at the forefront of alleviating the climate crisis by designing building systems that consume less energy and minimize CO2 emissions.
Want to learn more about MEP engineering or green/zero-energy buildings? Here are some resources for you:
Post Contributor – Jyn Jagadeesh PE, LEED AP BD+C, Mechanical Engineer