Charles City, VA
VCU Walter L. Rice Education Building
Scope of Services
Mechanical, Electrical, and Plumbing (MEP) Engineering
The Walter L. Rice Education Building at Virginia Commonwealth University's Rice Rivers Center is a 4,900 SF building with offices, teaching labs, classrooms, catering services, and restrooms. This living laboratory provides a place for research, teaching, and public outreach programs focused on environmental sciences. It also serves to inform faculty, students, and the community about the benefits of sustainable building practices.

The building incorporates high standards for environmental sustainability and energy efficiency strategies, which helped the facility become the first LEED Platinum building in Virginia.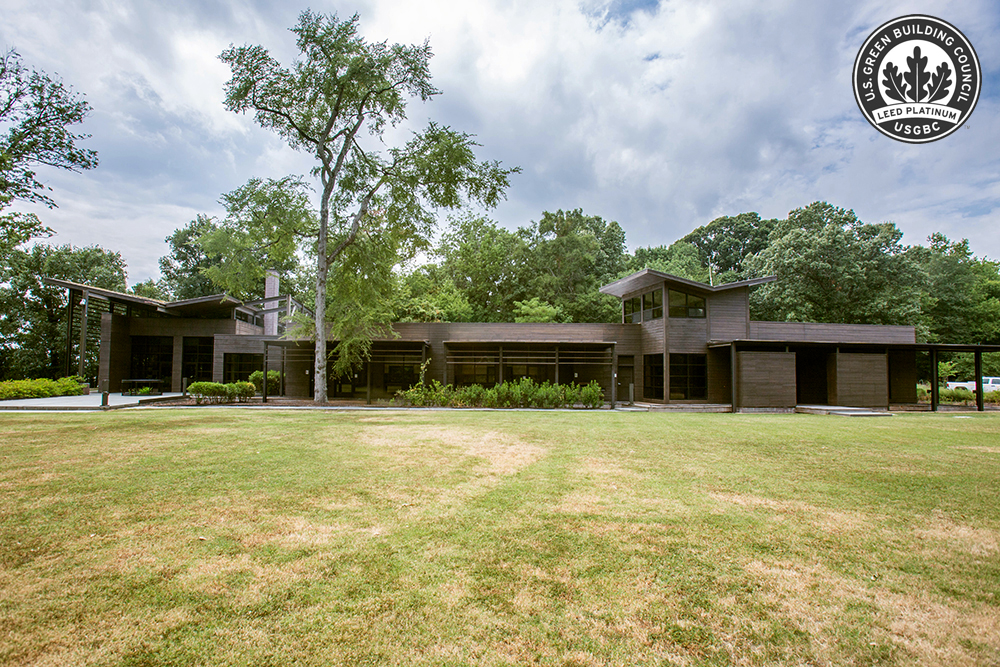 Services
2RW provided MEP engineering for the following aspects of the facility:
High-efficiency geothermal heat pump system using no ozone-depleting refrigerants
On-site renewable energy generation provided by a grid-connected 30-panel PV array
Low-flow water fixtures and tankless domestic water heaters
Rainwater collection to minimize potable water use for sewage conveyance and wastewater generation
Radiant/cool floor slab
Direct digital control (DDC) building automation system (BAS)
Operable windows for natural ventilation and better occupant control
Tubular day lighting to greatly reduce the need for grid-source energy
Results
The facility's 2018 energy use intensity (EUI) was 45.3 (kBtu/SF/yr). Operating at this level, the building is:
60.7% more efficient than comparable labs, which have an average EUI* of 115.3. This equates to a projected $9,400 annual cost savings.
46.3% more efficient than comparable university buildings, which have an average EUI* of 84.3. This equates to a projected $5,237 annual cost savings.
*From the August 2018 update to Portfolio Manager's "U.S. Energy Use Intensity by Property Type" technical reference.
Scope of Services
Mechanical, Electrical, and Plumbing (MEP) Engineering
OWNER: Virginia Commonwealth University (VCU)
TIMEFRAME: 2007 – 2009
SIZE: 4,900 SF
COST: $2.6 million
ESTIMATED ENERGY SAVINGS: $3,799/year
Awards
2019 – Green Building Legacy Award – USGBC Virginia
2019 – People's Choice Award – USGBC Virginia
2011 – Governor's Environmental Excellence Award, Virginia DEQ
2010 – Green Building Leadership Award, James River Green Building Council (now
USGBC – Greater Virginia)
2010 – Honor Award, American Institute of Architects – Central Virginia
2010 – Excellence in Architecture, American Institute of Architects – The Virginia Society
2009 – Green Innovation Award, Best Institutional Project, Higher Education, Virginia Sustainable Building Network
2009 – Project of the Year, Mid-Atlantic Construction
2009 – Project of the Year Green Projects, Mid-Atlantic Construction
Certifications
LEED Platinum