Charlottesville, VA
UVA New Cabell Hall Renovation
Scope of Services
Project Formulation Report
Mechanical, Electrical, and Plumbing (MEP) Engineering
Built in 1950, the University of Virginia's New Cabell Hall is situated at the end of Thomas Jefferson's historic Academical Village. It is considered an important building in this historic campus. In 2008, the University began a comprehensive restoration of New Cabell Hall to return the facility to its original intent while introducing modern facilities and amenities for its occupants which include the modern language, media studies, and graduate studies departments and the Dean of Arts and Sciences.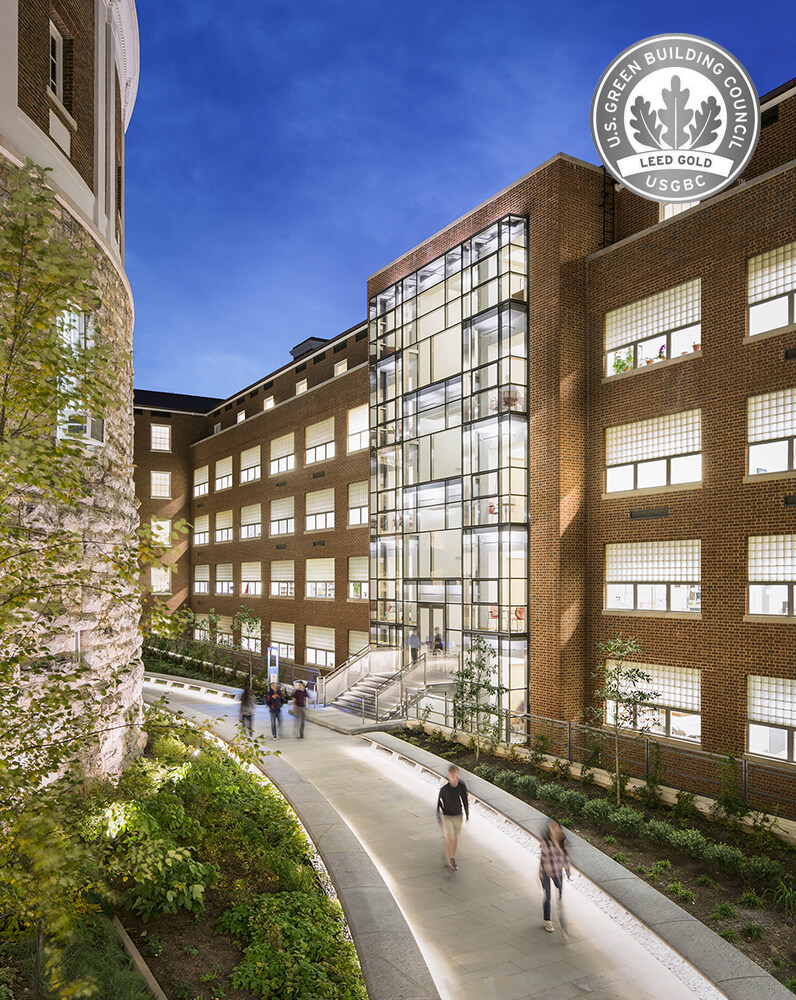 Services
2RW contributed to the Project Formulation Report which assessed the building's systems to help determine the viability and cost of renovating the building versus demolishing and rebuilding it. The study concluded that it was more economical and sustainable to bring the existing building up to current standards.
LEED consultation services which included analyzing, identifying, and designing systems that define an efficient path to certification while also meeting the University's key project goals such as budget, design integrity, and their sustainability mission.
Sustainable MEP design for all new major HVAC, plumbing, and electrical systems for the building's 50 classrooms, 300 office spaces, meeting rooms, common and social spaces, and new cafe.
Results
A facility that meets the University's sustainability mission with the incorporation of low-flow water fixtures, highly-efficient lighting and HVAC systems, and water re-use strategies including rooftop rainwater harvesting and irrigation systems that are used to maintain courtyard landscaping.
Increased comfort level for occupants with the addition of energy-efficient environmental control and ventilation systems.
Improved indoor air quality with fully tempered and treated outside air ventilation.
An enhanced learning environment with the addition of new, high-efficiency lighting strategies and modern media upgrades.
20% water reduction using low-flow faucets, urinals, and toilets.
Scope of Services
Project Formulation Report
Mechanical, Electrical, and Plumbing (MEP) Engineering
OWNER: University of Virginia
TIMEFRAME: 2008 – 2014
SIZE: 149,000 SF
COST: $49 million
Highlights
Space for mechanical systems was extremely limited, requiring precise design and close coordination with the University's Facilities team and the contractor.
Design had to accommodate a phased construction schedule because the building had to remain operational during construction.
Power, electricity, and plumbing updates had to be carefully coordinated so planned outages did not affect building occupants.
Awards
2020 – Green Building Legacy Award, USGBC Virginia
2020 – People's Choice Award, USGBC Virginia
2015 – Virginia Chapter Merit Award, American Society of Landscape Architects
Certifications
LEED Gold