Charlottesville, VA
UVA Davenport Field and Stadium Expansion
Scope of Services
Mechanical, Electrical, Plumbing, and Fire Protection (MEP/FP) Engineering
LEED Fundamental Commissioning
LEED Energy Modeling
UVA's Davenport Field has undergone a series of major transformations over the past 15 years. In 2002, the University unveiled a brand-new stadium featuring a canopied 1,500-seat grandstand, sky boxes, stadium lighting, press box, concession area, and new dugouts, locker rooms, and club house. A $4.5 million renovation in 2010 expanded the club house and added amenities to support player development. In 2018, the season opened on an $18.76 million, 21,000 SF stadium expansion to further enhance the fan experience and player recruiting, training, and development.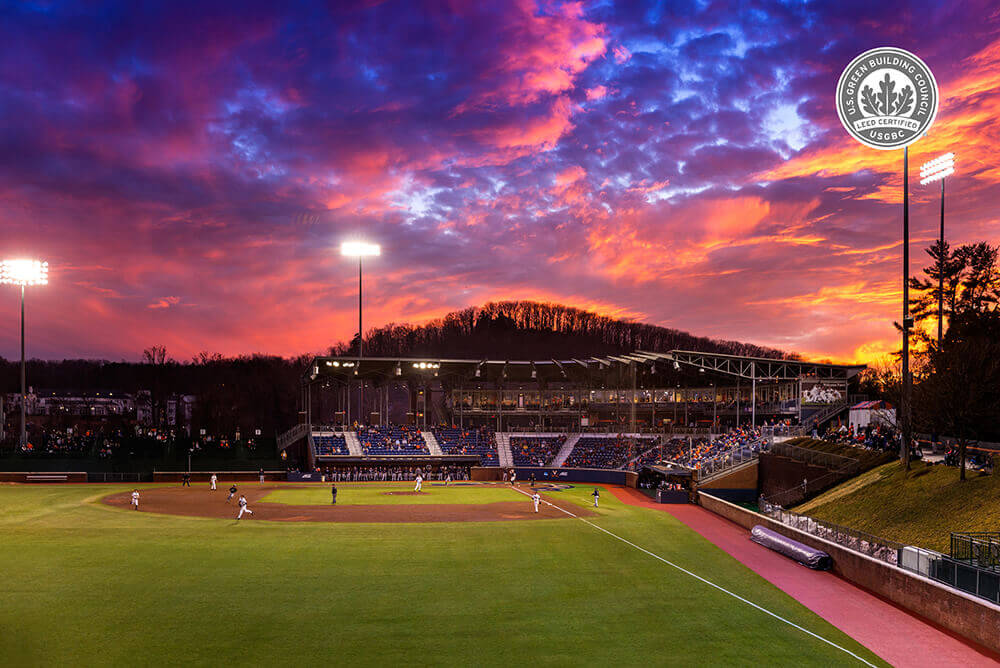 Services
2RW has played a key role in the transformation of Davenport Field over the past two decades, providing a variety of services that have included:
MEP/FP system design for the original facility and subsequent renovations and additions to meet LEED certifications. Field lighting design was a particular challenge for this project, as it required a careful balance to meet two critical requirements: minimizing light pollution and light trespass to surrounding properties while providing sufficient illumination to meet NCAA and ESPN standards for televised play.
LEED energy modeling to compare projected energy use to ASHRAE guidelines and verify compliance with state energy code requirements.
LEED Fundamental commissioning which identified faulty HVAC and lighting controls and improper control wiring and damper operation. Identifying and correcting these problems early prevented equipment malfunctions, improper ventilation and conditioning, and wasted energy.
Results
These comprehensive stadium enhancements help UVA continue to compete among the nation's elite baseball programs. The best-in-class facilities and amenities support program development efforts by attracting new fans and prospective players and the LEED facility advances the goals of the University's sustainability plan. The initial facility is LEED Certified and the latest expansion has earned LEED Silver certification.
Scope of Services
Mechanical, Electrical, Plumbing, and Fire Protection (MEP/FP) Engineering
LEED Fundamental Commissioning
LEED Energy Modeling
OWNER: University of Virginia
TIMEFRAME: 2001–2003, 2009–2010, and 2016–2019
SIZE: 21,000+ SF
COST: $25 million (combined proj. costs)
Highlights
Host site of NCAA Division I Regional Tournament, 2004, 2006, 2007, 2010–2013
Host Site of NCAA Division I Super Regional Tournament, 2010, 2011, 2013
Awards
2003 – Merit Award, AIA Central Virginia
2021 – Judge's Choice Award, USGBC Virginia
Certifications
LEED Certified and LEED Silver