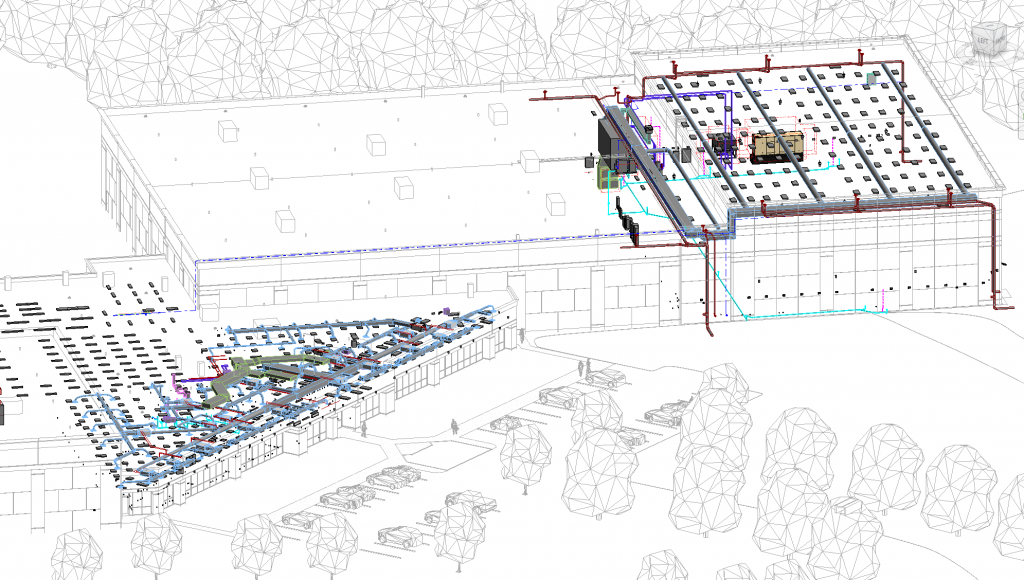 The shift from hand drafting to CAD revolutionized the MEP industry, and now, 3D modeling software like Revit is driving another substantial advancement in the production speed of construction document production. While not without its imperfections, Revit enables engineers to actively address potential conflicts with other trades before construction, significantly reducing overall project timelines. As a result, turnaround times for resolving issues have been drastically shortened. This powerful 3D software has made a remarkable impact on the industry, streamlining the entire project lifecycle, and enhancing the engineering community's problem-solving capabilities. Here's what some of our engineers think:
Joe S, Plumbing Designer, reflects on the evolution of drafting and design in the engineering industry: "In the days of manual drafting, we engineers would wait for preliminary designs and programming before starting to draft on vellum, mylar, or even linen with ink pens. Updated blueprints arrived periodically, prompting revisions and system redesigns. Large drafting rooms were common, and we designers had to possess good spatial awareness to avoid conflicts with structural elements and other trades. With the advent of CAD and reference files, we no longer had to revise backgrounds manually, allowing us to focus on design changes. CAD began as a glorified drafting board but eventually embraced 3D capabilities for better coordination. The introduction of Revit and other 3D modeling software accelerated the design process, enabling real-time collaboration and conflict resolution before construction. Today, 3D content from manufacturers of the actual products is used to save time, and coordination models ensure everything fits within the building, reducing project timelines and change orders."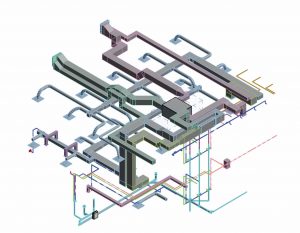 Bethany P, BIM/CAD Operator, discusses the integration of CAD into Revit: "The progression of 3D modeling came with its fair share of challenges, as is typical with most technological advancements. As an MEP design firm, we collaborate with various disciplines, including Civil engineers who mostly still utilize CAD. Since Revit allows for the integration of CAD files, we can expand our MEP REVIT design onto the site. This integration not only accelerated the overall drafting process but also enabled our team to export a single, comprehensive 3D model to share with clients and teammates, fostering better communication and understanding of project details."
Griffin G., Senior Mechanical Engineer, examines Revit's impact on the scope of work: "The accelerated pace enabled by Revit/BIM has empowered teams to generate precise information and foresee challenges before incurring costly field change orders. However, this technological advancement demands a proactive approach to coordinating with all relevant disciplines. As owners and prime consultants' expectations have risen, it has led to an iterative process that involves revisiting and adjusting the work multiple times, ranging from minor alterations to significant changes in the scope of work."
Brandon W., Associate Principal and Senior Electrical Engineer, shares a managerial perspective: "Revit has certainly improved the level of detail and communication methods for coordination since exchanging design parameters amongst the trades is much easier. In my experience, this has unfortunately led to a misunderstanding that changes and revisions can easily be picked up during design. While REVIT does make some of the drafting aspects easier to make revisions, it cannot just revise or reselect equipment or electrical distribution on its own. Those aspects still require good 'ole human engineering and time. One thing is clear, though, the days of constructing an entire building with minimal documentation are gone. As technology and software continue to evolve and improve, we'll eventually view REVIT as the slower archaic method to whatever new software replaces it. For now, though, we'll relish the increased pace and detail it offers as we move forward."
The engineering industry has experienced a significant transformation from manual drafting to advanced 3D modeling software like Revit, revolutionizing the design process and enabling real-time collaboration. Despite the challenges that come with technological advancements, integration of CAD into Revit has accelerated drafting processes, enhanced communication, and improved the overall understanding of project details. The accelerated pace brought by Revit/BIM requires a proactive approach to coordination and has increased expectations from clients and consultants. Although Revit has made design alterations more manageable, the need for human engineering and time remains crucial. As technology continues to evolve, there is anticipation for future software to surpass Revit, but for now, professionals in the industry appreciate the increased pace and detail it offers.